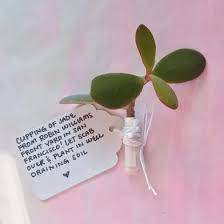 House Plant SWAP
Do you have too many house plants?
No, not you!
Are you interested in trading plants with other plant crazy people?
Yes, you sure are!
Join us outdoors on the lawn of the flower shop for a morning of trading house plants.
Bring cuttings or potted plants to trade for other cuttings or potted plants.
This is a fun opportunity to find some unique plants and some of the regular household names.
Your plants must be healthy, disease and pest free and easy to transport. Ie cuttings should be wrapped in tissue or something to keep them safe.
This is a new event to us, so we will see how it unfolds. I have a plan to make it all work magically.
We prefer no money to be exchanged at our event. (we are not responsible for any exchange of money at this event)
We take no responsibility for the trades you make.
We are not affiliated with any of the guests attending and take no responsibility for the survival of your plant.
We ask that you refrain from bringing your plants inside the flower shop should you choose to peruse our store before, during or after the event.